Heroes are the characters you fight with in Dungeons, The Arena, The Dark Maze and the Chaos Titan. Heroes form the basis of the game, as you cannot fight without them. Getting the hero you want is a easy process, but getting the perfect hero, with the right Alignment, Runes and Awakens is a whole different task.
Every Hero has an Element, and deals more or less damage depending on what Element it is targeting.
| | | | | | | |
| --- | --- | --- | --- | --- | --- | --- |
| | Fire | Water | Earth | Light | Dark | |
| Fire | - | Weak | Strong | - | - | |
| Water | Strong | - | Weak | - | - | |
| Earth | Weak | Strong | - | - | - | |
| Light | - | - | - | - | Strong/Weak | |
| Dark | - | - | - | Strong/Weak | - | |
Alignments
Edit
Every Hero in the game has an alignment. This alignment changes the stats of the hero slightly. This can have a large impact on the hero. For example, a Warden Kuha is not preferable, since it is a character that loves to have ATK, you would not want a decrease in ATK. For Kuha, Breaker is preferred.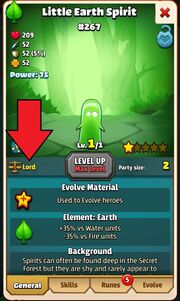 | Alignment | Effect |
| --- | --- |
| Lord | Increases all stats by 5% |
| Anima | Increases HP by 15%, decreases REC by 5% |
| Breaker | Increases ATK by 15%, decreases DEF by 5% |
| Warden | Increases DEF by 15%, decreases ATK by 5% |
| Oracle | Increases REC by 15%, decreases HP by 5% |
Sadly, you cannot choose the alignment you want. When you get a card drop, summon a hero, craft a hero or get an altar hero, the alignment you get is randomized. This can be very tough if you didn't know alignments were important and already have a 6-star card with the wrong alignment. It is very important to only evolve a card once you are happy with the alignment.
Every hero has a Leader Skill, a Skill and some heroes also have a Combo Skill. You can use these skills, and by doing so have great impact on the gameplay that you have. Skills can do so much for you, but picking random heroes and making a team will probably end up not having any complementary skills. Planning your team is important, and so are their skills.
Leader Skills
Edit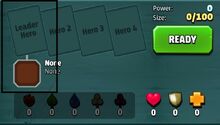 Leader Skills are activated by the first hero in your team, indicated by the Leader Hero slot. Choosing the right Leader Skill is very important, as it will have impact on your whole team.
Skills are the ones you use in battle. These can be used every few turns, and every time you attack, the skill cool down decreases by 1. Heroes can also have a skill, that gives Skill Energy for the other heroes. Managing Skill Energy and having a good skill timing is very important when fighting hard bosses or high Chaos Titan levels.
Combo Skills
Edit
Most heroes have a Combo Skill. A Combo skill can be activated if you have all heroes that are needed for the Combo Skill in your team. This can be either 2 or 3 heroes, depending on the Combo Skill.
Every hero has Traits. These traits give your Hero strengths and weaknesses, depending on the Trait.
Awakens are features of a hero that give the hero increased Stats, increased chance to draw certain cards, boosts when your hand is in a certain state, enhanced Skills, Element Resistance, Elemental enhancement and even Resist Death! These awakens are quite pricey if you want the right one, as you cannot choose which one you want.
How to get Awakens
Edit
Awakens are available for all heroes that have 3 stars or higher. A second Awaken is available if a hero reached 4 stars, and a third Awaken when the hero reaches 5 stars. To get started on an Awaken, you will need to sacrifice a hero of the same amount of stars the Awaken is available at. So if you want the second Awaken, you will need to spend the same 4 star hero of the one that you want to Awaken. Zibuls are useful Heroes, as they substitute for the Hero you need to sacrifice. Orange and Red Zibuls are used to upgrade or change the Awaken, as you so choose.
Table of Awakens
Edit
This table shows all available awakens, what they do and for which heroes they are.
For simplicity, only max-starred heroes are featured. This table is still missing a lot of Heroes, please add if you know what Awakens they have.
Awaken
What is it
What Heroes get it
Flat Stat
A flat increase in ATK, DEF, REC, HP or ATK DEF and REC in one.
Supreme Sand God Xal'aeSupreme Paladin Aldric
Percentage Stat
A percentage increase in ATK, DEF, REC, HP or ATK DEF and REC in one.
Supreme Sand God Xal'aeCXR M4

Mythic King Minotaur (2x)

Elemental
Increases all allies attack damage in a certain Element by a percentage.
Mythic Engineer TuskSky God Edon
Resistance
Reduces damage dealt to the Hero from an Element by a percentage.
CXR M4Supreme Paladin Aldric

Mythic Lord Azata (2x)

Skill
Give the hero Skill energy, or a chance to start with fully charged skills.
Mythic Undead MortMythic Lord Azata
Damage vs Trait
Give the hero a percentage increase in damage vs Melee, Ranged or Spell Caster.
Mythic Sea KuhaSky God Edon
Deck Control
Give an increase in chance to draw a card of an Element.
Jester God Neth (2x)

Illusion God Brett (2x)

Hand State Combo
When you have 6 cards in your hand, enable a stat boost for the hero for some turns, or skill energy.
Jester God NethSky God Edon
3 Element Combo
3 cards of the same Element in your hand give the Hero a % stat boost for some turns, or skill energy.
Mythic Dragolich MaliMythic Dragon Raziel
All Elements Combo
When you have 5 different elements in your hand, give the Hero a percentage stat boost, or skill energy.
Mythic Sea Kuha
Resist Death
Give a chance to avoid death by single-hit-kills.
Supreme Sand God Xal'aeCXR M4
Complete Hero List
Edit
| Number | Name | Stars | Type | Traits |
| --- | --- | --- | --- | --- |
| 001 | Mage Henrich | 2 | Water | Spell Caster |
| 002 | Water Mage Henrich | 3 | Water | Spell Caster |
| 003 | Water Lord Henrich | 4 | Water | Spell Caster |
| 004 | Water God Henrich | 5 | Water | Divine, Spell Caster |
| 005 | Supreme Water Henrich | 6 | Water | Divine, Spell Caster |
| 006 | Adela | 2 | Earth | Armored, Melee |
| 007 | Princess Adela | 3 | Earth | Armored, Melee |
| 008 | Earth Queen Adela | 4 | Earth | Armored, Melee |
| 009 | Goddess Adela | 5 | Earth | Armored, Divine, Melee |
| 010 | Supreme Earth Adela | 6 | Earth | Armored, Divine, Melee |
| 011 | Mage Eldric | 2 | Fire | Spell Caster |
| 012 | Fire Mage Eldric | 3 | Fire | Spell Caster |
| 013 | Fire Master Eldric | 4 | Fire | Spell Caster |
| 014 | Fire God Eldric | 5 | Fire | Divine, Spell Caster |
| 015 | Supreme Fire Eldric | 6 | Fire | Divine, Spell Caster |
| 016 | Water Blop | 1 | Water | Melee |
| 017 | King Water Blop | 2 | Water | Melee |
| 018 | Earth Blop | 1 | Earth | Melee |
| 019 | King Earth Blop | 2 | Earth | Melee |
| 020 | Fire Blop | 1 | Fire | Melee |
| 021 | King Fire Blop | 2 | Fire | Melee |
| 022 | Light Blop | 1 | Light | Melee |
| 023 | King Light Blop | 2 | Light | Melee |
| 024 | Dark Blop | 1 | Dark | Melee |
| 025 | King Dark Blop | 2 | Dark | Melee |
| 026 | Blue Goblin | 1 | Water | Melee |
| 027 | Blue Goblin Leader | 2 | Water | Melee |
| 028 | King Blue Goblin | 3 | Water | Melee |
| 029 | Green Goblin | 1 | Earth | Melee |
| 030 | Green Goblin Leader | 2 | Earth | Melee |
| 031 | King Green Goblin | 3 | Earth | Melee |
| 032 | Red Goblin | 1 | Fire | Melee |
| 033 | Red Goblin Leader | 2 | Fire | Melee |
| 034 | King Red Goblin | 3 | Fire | Melee |
| 035 | River Troll | 1 | Water | Melee |
| 036 | Elder River Troll | 2 | Water | Melee |
| 037 | King River Troll | 3 | Water | Melee |
| 038 | Stone Troll | 1 | Earth | Melee |
| 039 | Elder Stone Troll | 2 | Earth | Melee |
| 040 | King Stone Troll | 3 | Earth | Melee |
| 041 | Fire Troll | 1 | Fire | Melee |
| 042 | Elder Fire Troll | 2 | Fire | Melee |
| 043 | King Fire Troll | 3 | Fire | Melee |
| 044 | Healer Amelia | 1 | Water | Flying, Magical, Spell Caster, Healer |
| 045 | High Healer Amelia | 2 | Water | Flying, Magical, Spell Caster, Healer |
| 046 | Fairy Queen Amelia | 3 | Water | Flying, Magical, Spell Caster, Healer |
| 047 | Druid Myrna | 1 | Earth | Spell Caster, Healer |
| 048 | Elder Druid Myrna | 2 | Earth | Spell Caster, Healer |
| 049 | Forest Queen Myrna | 3 | Earth | Spell Caster, Healer |
| 050 | Archer Lisa | 1 | Fire | Ranged |
| 051 | Royal Archer Lisa | 2 | Fire | Ranged |
| 052 | Holy Archer Lisa | 3 | Fire | Ranged |
| 053 | Skeleton | 1 | Dark | Armored, Undead, Melee |
| 054 | Knight Skeleton | 2 | Dark | Armored, Undead, Melee |
| 055 | King Skeleton | 3 | Dark | Armored, Undead, Melee |
| 056 | Acolyte Elsa | 1 | Light | Spell Caster, Healer |
| 057 | Magistra Elsa | 2 | Light | Spell Caster, Healer |
| 058 | Matriarch Elsa | 3 | Light | Spell Caster, Healer |
| 059 | Mage Wilfred | 2 | Dark | Spell Caster |
| 060 | Dark Mage Wilfred | 3 | Dark | Spell Caster |
| 061 | Shadow Mage Wilfred | 4 | Dark | Spell Caster |
| 062 | Death God Wilfred | 5 | Dark | Divine, Spell Caster |
| 063 | Supreme Death Wilfred | 6 | Dark | Divine, Spell Caster |
| 064 | Unicorn | 1 | Light | Magical, Spell Caster |
| 065 | Pegasus | 2 | Light | Flying, Magical, Spell Caster |
| 066 | Alicorn | 3 | Light | Divine, Flying, Magical, Spell Caster |
| 067 | Fallen Unicorn | 1 | Dark | Magical, Spell Caster |
| 068 | Nightmare | 2 | Dark | Flying, Magical, Spell Caster |
| 069 | Unholy Nightmare | 3 | Dark | Divine, Flying, Magical, Spell Caster |
| 070 | Griffin | 1 | Light | Flying, Melee |
| 071 | Alpha Griffin | 2 | Light | Flying, Melee |
| 072 | Royal Griffin | 3 | Light | Flying, Melee |
| 073 | Mage Claara | 2 | Light | Spell Caster, Healer |
| 074 | Holy Mage Claara | 3 | Light | Spell Caster, Healer |
| 075 | Divine Magistra Claara | 4 | Light | Divine, Spell Caster, Healer |
| 076 | Light God Claara | 5 | Light | Divine, Spell Caster, Healer |
| 077 | Supreme Light Claara | 6 | Light | Divine, Spell Caster, Healer |
| 078 | Advocate Yin | 1 | Dark | Spell Caster |
| 079 | Head Advocate Yin | 2 | Dark | Spell Caster |
| 080 | Magistrate Yin | 3 | Dark | Spell Caster |
| 081 | Forest Guardian Tapio | 3 | Earth | Armored, Ranged |
| 082 | Forest King Tapio | 4 | Earth | Armored, Ranged |
| 083 | Forest God Tapio | 5 | Earth | Armored, Divine, Ranged |
| 084 | Half-Sack Conrad | 3 | Fire | Melee |
| 085 | Hammerer Conrad | 4 | Fire | Melee |
| 086 | Fire Hammer Conrad | 5 | Fire | Melee |
| 087 | Merman | 3 | Water | Melee |
| 088 | Elder Merman | 4 | Water | Melee |
| 089 | Treant | 3 | Earth | Magical, Melee |
| 090 | Ent | 4 | Earth | Magical, Melee |
| 091 | Imp | 3 | Fire | Magical, Spell Caster |
| 092 | Fire Fiend | 4 | Fire | Magical, Spell Caster |
| 093 | Golem Tiny | 2 | Water | Magical, Melee |
| 094 | Snow Golem Tiny | 3 | Water | Magical, Melee |
| 095 | Snow Goliath Tiny | 4 | Water | Magical, Melee |
| 096 | Torsten | 3 | Light | Armored, Mechanical, Melee |
| 097 | Ironglove Torsten | 4 | Light | Armored, Mechanical, Melee |
| 098 | Steelglove Torsten | 5 | Light | Armored, Mechanical, Melee |
| 099 | Doctor Froglicker | 2 | Earth | Magical, Spell Caster, Healer |
| 100 | Witch Doctor Froglicker | 3 | Earth | Magical, Spell Caster, Healer |
| 101 | Voodoo Master Froglicker | 4 | Earth | Magical, Spell Caster, Healer |
| 102 | Gargoyle | 3 | Earth | Flying, Mechanical, Melee |
| 103 | Knight Gargoyle | 4 | Earth | Flying, Mechanical, Melee |
| 104 | Sir Gargoyle von Herz | 5 | Earth | Flying, Mechanical, Melee |
| 105 | Rain | 3 | Water | Armored, Melee |
| 106 | Knight Rain | 4 | Water | Armored, Melee |
| 107 | Dragon Knight Rain | 5 | Water | Armored, Divine, Melee |
| 108 | Flann | 3 | Fire | Armored, Melee |
| 109 | Knight Flann | 4 | Fire | Armored, Melee |
| 110 | Dragon Knight Flann | 5 | Fire | Armored, Divine, Melee |
| 111 | Frida | 3 | Water | Spell Caster |
| 112 | Ice Mage Frida | 4 | Water | Spell Caster |
| 113 | Ice Goddess Frida | 5 | Water | Divine, Spell Caster |
| 114 | Supreme Ice Frida | 6 | Water | Divine, Spell Caster |
| 115 | Scout Violet | 3 | Dark | Piercing, Melee |
| 116 | Assassin Violet | 4 | Dark | Piercing, Melee |
| 117 | Master Assassin Violet | 5 | Dark | Piercing, God Hunter, Ranged |
| 118 | Hunter Zaff | 3 | Light | Piercing, Ranged, Raccoon |
| 119 | Witch Hunter Zaff | 4 | Light | Piercing, Ranged, Raccoon |
| 120 | Hunter God Zaff | 5 | Light | Piercing, God Hunter, Ranged, Raccoon |
| 121 | Gunner Estella | 3 | Light | Piercing, Ranged |
| 122 | Protector Estella | 4 | Light | Piercing, Ranged |
| 123 | Holy Protector Estella | 5 | Light | Divine, Piercing, Ranged |
| 124 | Sarya | 3 | Dark | Melee |
| 125 | Necromancer Sarya | 4 | Dark | Melee |
| 126 | Dark Queen Sarya | 5 | Dark | Melee |
| 127 | Priest Artus | 3 | Light | Spell Caster, Healer |
| 128 | High Priest Artus | 4 | Light | Spell Caster, Healer |
| 129 | Holy Light Artus | 5 | Light | Divine, Spell Caster, Healer |
| 130 | Templar Tyron | 3 | Dark | Armored, Undead, Melee |
| 131 | Dark Templar Tyron | 4 | Dark | Armored, Undead, Melee |
| 132 | Black God Tyron | 5 | Dark | Armored, Divine, Undead, Melee |
| 133 | Mythic Evil Tyron | 6 | Dark | Armored, Divine, Undead, Melee |
| 134 | Timothy | 3 | Earth | Magical, Spell Caster |
| 135 | Scarecrow Timothy | 4 | Earth | Magical, Spell Caster |
| 136 | Crow God Timothy | 5 | Earth | Divine, Magical, Spell Caster |
| 137 | Mythic Timothy | 6 | Earth | Divine, Magical, Spell Caster |
| 138 | Fast Blade Kei | 3 | Fire | Piercing, Ranged, Raccoon |
| 139 | Blade Master Kei | 4 | Fire | Piercing, Ranged, Raccoon |
| 140 | Blade God Kei | 5 | Fire | Divine, Piercing, Ranged, Raccoon |
| 141 | Supreme Blade Kei | 6 | Fire | Divine, Piercing, Ranged, Raccoon |
| 142 | CXR | 3 | Fire | Armored, Mechanical, Melee |
| 143 | CXR M2 | 4 | Fire | Armored, Mechanical, Melee |
| 144 | CXR M3 | 5 | Fire | Armored, Mechanical, Melee |
| 145 | Droid Asai | 3 | Dark | Mechanical, Undead, Melee |
| 146 | Combat Droid Asai | 4 | Dark | Mechanical, Undead, Melee |
| 147 | Battle Droid Asai | 5 | Dark | Mechanical, Undead, Melee |
| 148 | Paladin Aldric | 3 | Light | Armored, Melee |
| 149 | Holy Paladin Aldric | 4 | Light | Armored, Melee |
| 150 | God Paladin Aldric | 5 | Light | Armored, Divine, Melee |
| 151 | Supreme Paladin Aldric | 6 | Light | Armored, Divine, Melee |
| 152 | Dark Knight Lilith | 3 | Dark | Armored, Undead, Melee |
| 153 | Death Knight Lilith | 4 | Dark | Armored, Undead, Melee |
| 154 | Black Goddess Lilith | 5 | Dark | Armored, Divine, Undead, Melee |
| 155 | Pirate Lynn | 3 | Water | Melee |
| 156 | Captain Lynn | 4 | Water | Melee |
| 157 | Flame Soldier | 3 | Fire | Armored, Magical, Melee |
| 158 | Flame Commander | 4 | Fire | Armored, Magical, Melee |
| 159 | Sky Pirate Jordi | 3 | Water | Piercing, Ranged |
| 160 | Sky Captain Jordi | 4 | Water | Piercing, Ranged |
| 161 | Sky King Jordi | 5 | Water | Piercing, Ranged |
| 162 | Sky Knight Edon | 3 | Earth | Armored, Flying, Melee |
| 163 | Sky Hero Edon | 4 | Earth | Armored, Flying, Melee |
| 164 | Sky God Edon | 5 | Earth | Armored, Divine, Flying, Melee |
| 165 | Dancer Mai | 3 | Fire | Flying, Piercing, Melee |
| 166 | Fire Breather Mai | 4 | Fire | Flying, Piercing, Melee |
| 167 | Fire Master Mai | 5 | Fire | Flying, Piercing, Melee |
| 168 | Nature Spirit Eir | 3 | Earth | Spell Caster, Healer |
| 169 | Nature Deity Eir | 4 | Earth | Spell Caster, Healer |
| 170 | Nature Goddess Eir | 5 | Earth | Divine, Spell Caster, Healer |
| 171 | Neth | 3 | Light | Spell Caster, Raccoon |
| 172 | Fool Neth | 4 | Light | Spell Caster, Raccoon |
| 173 | Jester God Neth | 5 | Light | Divine, Spell Caster, Raccoon |
| 174 | Card Master Brett | 3 | Dark | Spell Caster |
| 175 | Illusionist Brett | 4 | Dark | Spell Caster |
| 176 | Illusion God Brett | 5 | Dark | Divine, Spell Caster |
| 177 | Vlad | 3 | Water | Armored, Melee |
| 178 | Brawler Vlad | 4 | Water | Armored, Melee |
| 179 | Champion Vlad | 5 | Water | Armored, Melee |
| 180 | Zere | 3 | Fire | Melee, Dragon |
| 181 | Draconian Zere | 4 | Fire | Melee, Dragon |
| 182 | Master Zere | 5 | Fire | God Hunter, Melee, Dragon |
| 183 | Moon | 3 | Water | Flying, Ranged |
| 184 | Shock Bow Moon | 4 | Water | Flying, Ranged |
| 185 | Lightning God Moon | 5 | Water | Divine, Flying, Ranged |
| 186 | Fighter Anann | 3 | Fire | Melee |
| 187 | Gladiator Anann | 4 | Fire | Melee |
| 188 | War Goddess Anann | 5 | Fire | Divine, Melee |
| 189 | Tinkerer Tusk | 3 | Earth | Armored, Mechanical, Ranged |
| 190 | Inventor Tusk | 4 | Earth | Armored, Mechanical, Ranged |
| 191 | Master Engineer Tusk | 5 | Earth | Armored, Mechanical, Ranged |
| 192 | Sand Prince Xal'ae | 3 | Fire | Armored, Piercing, Melee |
| 193 | Sand King Xal'ae | 4 | Fire | Armored, Piercing, Melee |
| 194 | Sand God Xal'ae | 5 | Fire | Armored, Divine, Piercing, Melee |
| 195 | Light Temple Guard | 3 | Light | Armored, Melee |
| 196 | Light Temple Guard Leader | 4 | Light | Armored, Melee |
| 197 | Dark Temple Guard | 3 | Dark | Armored, Melee |
| 198 | Dark Temple Guard Leader | 4 | Dark | Armored, Melee |
| 199 | Light Cultist Priest | 3 | Light | Spell Caster, Healer |
| 200 | Light Cultist Head Priest | 4 | Light | Spell Caster, Healer |
| 201 | Dark Cultist Priest | 3 | Dark | Spell Caster |
| 202 | Dark Cultist Head Priest | 4 | Dark | Spell Caster |
| 203 | Azata | 3 | Light | Spell Caster, Healer |
| 204 | Bard Azata | 4 | Light | Spell Caster, Healer |
| 205 | Empyreal Lord Azata | 5 | Light | Divine, Spell Caster, Healer |
| 206 | Tamer Jaz | 3 | Earth | Melee |
| 207 | Beastmaster Jaz | 4 | Earth | Melee |
| 208 | Beast God Jaz | 5 | Earth | Divine, Melee |
| 209 | Lizardman Dille | 3 | Earth | Armored, Melee |
| 210 | Guardian Dille | 4 | Earth | Armored, Melee |
| 211 | Sacred Guard Dille | 5 | Earth | Armored, Melee |
| 212 | Warrior Minotaur | 3 | Fire | Magical, Melee |
| 213 | Chieftain Mintaur | 4 | Fire | Magical, Melee |
| 214 | King Minotaur | 5 | Fire | Magical, Melee |
| 215 | Succubus | 4 | Dark | Flying, Magical, Spell Caster |
| 216 | Erinyes | 5 | Dark | Flying, Magical, Spell Caster |
| 217 | Monk Pasura | 3 | Light | Melee |
| 218 | Warrior Monk Pasura | 4 | Light | Melee |
| 219 | God Pasura | 5 | Light | Divine, Melee |
| 220 | Vampire Commoner | 3 | Dark | Flying, Melee |
| 221 | Vampire Aristocrat | 4 | Dark | Flying, Melee |
| 222 | Vampire Pureblood | 5 | Dark | Flying, Melee |
| 223 | Dragonling Tulva | 3 | Water | Flying, Spell Caster, Dragon |
| 224 | Water Dragon Tulva | 4 | Water | Flying, Spell Caster, Dragon |
| 225 | Ancient Dragon Tulva | 5 | Water | Flying, Spell Caster, Dragon |
| 226 | Dragonling Raziel | 3 | Earth | Flying, Spell Caster, Dragon |
| 227 | Dragon Raziel | 4 | Earth | Flying, Spell Caster, Dragon |
| 228 | Ancient Dragon Raziel | 5 | Earth | Flying, Spell Caster, Dragon |
| 229 | Dragonling Kea | 3 | Fire | Melee, Dragon |
| 230 | Lava Dragon Kea | 4 | Fire | Melee, Dragon |
| 231 | Ancient Lava Dragon Kea | 5 | Fire | Melee, Dragon |
| 232 | Dragonling Siva | 3 | Light | Flying, Spell Caster, Dragon |
| 233 | Gold Dragon Siva | 4 | Light | Flying, Spell Caster, Dragon |
| 234 | Ancient Dragon Siva | 5 | Light | Flying, Spell Caster, Dragon |
| 235 | Dragonling Mali | 3 | Dark | Flying, Undead, Spell Caster, Dragon |
| 236 | Shadow Dragon Mali | 4 | Dark | Flying, Undead, Spell Caster, Dragon |
| 237 | Dragolich Mali | 5 | Dark | Flying, Undead, Spell Caster, Dragon |
| 238 | Angel | 4 | Light | Flying, Spell Caster |
| 239 | Archangel | 5 | Light | Divine, Flying, Spell Caster |
| 240 | Kraken | 3 | Water | Armored, Melee |
| 241 | King Kraken | 4 | Water | Armored, Melee |
| 242 | Hydra | 4 | Earth | Armored, Melee, Healer |
| 243 | King Hydra | 5 | Earth | Armored, Melee, Healer |
| 244 | Water Ghost | 3 | Water | Magical |
| 245 | Water King | 4 | Water | Magical |
| 246 | Water God | 5 | Water | Divine, Magical |
| 247 | Earth Ghost | 3 | Earth | Magical |
| 248 | Earth King | 4 | Earth | Magical |
| 249 | Earth God | 5 | Earth | Divine, Magical |
| 250 | Fire Ghost | 3 | Fire | Magical |
| 251 | Fire King | 4 | Fire | Magical |
| 252 | Fire God | 5 | Fire | Divine, Magical |
| 253 | Light Ghost | 3 | Light | Magical |
| 254 | Light King | 4 | Light | Magical |
| 255 | Light God | 5 | Light | Divine, Magical |
| 256 | Dark Ghost | 3 | Dark | Magical |
| 257 | Dark King | 4 | Dark | Magical |
| 258 | Dark God | 5 | Dark | Divine, Magical |
| 259 | Golden Bug | 2 | Light | Magical |
| 260 | Diamond Frog | 3 | Light | Magical |
| 261 | Diamond Dragon | 4 | Light | Magical |
| 262 | Little Water Spirit | 1 | Water | Magical |
| 263 | Water Spirit | 2 | Water | Magical |
| 264 | Blue Bell Ringer | 3 | Water | Magical |
| 265 | Water Spirit King | 4 | Water | Magical |
| 266 | Water Sentinel | 5 | Water | Divine, Magical |
| 267 | Little Earth Spirit | 1 | Earth | Magical |
| 268 | Earth Spirit | 2 | Earth | Magical |
| 269 | Green Bell Ringer | 3 | Earth | Magical |
| 270 | Earth Spirit King | 4 | Earth | Magical |
| 271 | Earth Sentinel | 5 | Earth | Divine, Magical |
| 272 | Little Fire Spirit | 1 | Fire | Magical |
| 273 | Fire Spirit | 2 | Fire | Magical |
| 274 | Red Bell Ringer | 3 | Fire | Magical |
| 275 | Fire Spirit King | 4 | Fire | Magical |
| 276 | Fire Sentinel | 5 | Fire | Divine, Magical |
| 277 | Little Light Spirit | 1 | Light | Divine |
| 278 | Light Spirit | 2 | Light | Divine |
| 279 | Light Bell Ringer | 3 | Light | Divine |
| 280 | Light Spirit King | 4 | Light | Divine |
| 281 | Light Sentinel | 5 | Light | Divine, Magical |
| 282 | Little Dark Spirit | 1 | Dark | Magical |
| 283 | Dark Spirit | 2 | Dark | Magical |
| 284 | Dark Bell Ringer | 3 | Dark | Magical |
| 285 | Dark Spirit King | 4 | Dark | Magical |
| 286 | Dark Sentinel | 5 | Dark | Divine, Magical |
| 287 | Mimic | 3 | Dark | Magical |
| 288 | Bat Mimic | 4 | Dark | Flying, Magical |
| 289 | Dragon Mimic | 5 | Dark | Flying, Magical |
| 290 | | | | |
| 291 | | | | |
| 292 | | | | |
| 293 | Duke Werner von Herz | 6 | Earth | Flying, Mechanical, Melee |
| 294 | | | | |
| 295 | | | | |
| 296 | | | | |
| 297 | | | | |
| 298 | Mythic Dark Sarya | 6 | Dark | Melee |
| 299 | | | | |
| 300 | CXR M4 | 6 | Fire | Armoured, Mechanical, Melee |
| 301 | Mythic Black Lilith | 6 | Dark | Armoured, Divine, Undead, Melee |
| 302 | | | | |
| 303 | | | | |
| 304 | | | | |
| 305 | | | | |
| 306 | | | | |
| 307 | | | | |
| 308 | Supreme Vlad | 6 | Water | Armoured, Melee |
| 309 | Mythic Zere | 6 | Fire | God Hunter, Melee, Dragon |
| 310 | Supreme Lightning Moon | 6 | Water | Divine, Flying, Ranged |
| 311 | Supreme Goddess Anann | 6 | Fire | Divine, Melee |
| 312 | Mythic Engineer Tusk | 6 | Earth | Armoured, Mechanical, Melee |
| 313 | Supreme Sand God Xal'ae | 6 | Fire | Armoured, Divine, Piercing, Melee |
| 314 | Mythic Lord Azata | 6 | Light | Divine, Spell Caster, Healer |
| 315 | Supreme Beast God Jaz | 6 | Earth | Divine, Melee |
| 316 | Mythic Guard Dille | 6 | Earth | Armoured, Melee |
| 317 | Mythic King Minotaur | 6 | Fire | Magical, Melee |
| 318 | Eumenid | 6 | Dark | Flying, Magical, Spell Caster |
| 319 | | | | |
| 320 | | | | |
| 321 | Mythic Dragon Tulva | 6 | Water | Flying, Spell Caster, Dragon |
| 322 | Mythic Dragon Raziel | 6 | Earth | Flying, Spell Caster, Dragon |
| 323 | Mythic Lava Dragon Kea | 6 | Fire | Melee, Dragon |
| 324 | Mythic Dragon Siva | 6 | Light | Flying, Spell Caster, Dragon |
| 325 | Mythic Dragolich Mali | 6 | Dark | Flying, Undead, Spell Caster, Dragon |
| 326 | | | | |
| 327 | | | | |
| 328 | Mythic King Hydra | 6 | Earth | Armoured, Melee, Healer |
| 329 | Rainbow Sprite | 2 | Light | Magical |
| 330 | Rainbow Sprite | 3 | Light | Magical |
| 331 | Rainbow Sprite | 4 | Light | Magical |
| 332 | Rainbow Sprite | 5 | Light | Magical |
| 333 | Mort | 3 | Dark | Spell Caster, God Hunter, Raccoon |
| 334 | Necromancer Mort | 4 | Dark | Spell Caster, God Hunter, Raccoon |
| 335 | Undead God Mort | 5 | Dark | Undead, Spell Caster, God Hunter, Raccoon |
| 336 | Mythic Undead Mort | 6 | Dark | Undead, Spell Caster, God Hunter, Raccoon |
| 337 | Fisherman Kuha | 3 | Water | Magical, Piercing, Ranged |
| 338 | Sea Captain Kuha | 4 | Water | Magical, Piercing, Ranged |
| 339 | Sea God Kuha | 5 | Water | Magical, Piercing, Ranged |
| 340 | Mythic Sea Kuha | 6 | Water | Magical, Piercing, Ranged |
| 341 | Miho | 3 | Fire | Magical, Spell Caster |
| 342 | Fire Spectre Miho | 4 | Fire | Magical, Spell Caster |
| 343 | Fox God Miho | 5 | Fire | Divine, Magical, Spell Caster |
| 344 | Supreme Miho | 6 | Fire | Divine, Magical, Spell Caster |
| 345 | Fast Chakram Desh | 3 | Earth | Ranged, Raccoon |
| 346 | Chakram Master Desh | 4 | Earth | Ranged, Raccoon |
| 347 | Chakram Master Desh | 5 | Earth | God Hunter, Ranged, Raccoon |
| 348 | Supreme Chakram Desh | 6 | Earth | God Hunter, Ranged, Raccoon |
| 349 | DXS | 4 | Water | Armoured, Mechanical, Ranged |
| 350 | DXS M2 | 5 | Water | Armoured, Mechanical, Ranged |
| 351 | DXS M3 | 6 | Water | Armoured, Mechanical, Ranged |
| 352 | | | | |
| 353 | | | | |
| 354 | | | | |
| 355 | | | | |
| 356 | | | | |
| 357 | | | | |
| 358 | | | | |
| 359 | Dark God Forseti | 5 | Dark | Divine, Flying, Spell Caster |
| 360 | Supreme Dark Forseti | 6 | Dark | Divine, Flying, Spell Caster |
| 361 | Justice God Forseti | 5 | Light | Divine, Flying, Spell Caster |
| 362 | Supreme Justice Forseti | 6 | Light | Divine, Flying, Spell Caster |
| 363 | Wolf God Fenrir | 5 | Earth | Divine, Magical, Melee |
| 364 | Supreme Werewolf Fenrir | 6 | Earth | Divine, Magical, Melee |
| 365 | Mad God Odr | 5 | Dark | Divine, Spell Caster |
| 366 | Divine Madness Odr | 6 | Dark | Divine, Spell Caster |
| 367 | Winter God Skadi | 5 | Water | Divine, Ranged |
| 368 | Supreme Winter Skadi | 6 | Water | Divine, Ranged |
| 369 | Victory God Freyr | 5 | Fire | Armoured, Divine, Melee |
| 370 | Supreme Victory Freyr | 6 | Fire | Armoured, Divine, Melee |
| 371 | Baby White Zibul | 3 | Earth | Magical |
| 372 | White Zibul | 4 | Earth | Magical |
| 373 | Grand White Zibul | 5 | Earth | Magical |
| 374 | Baby Red Zibul | 3 | Earth | Magical |
| 375 | Red Zibul | 4 | Earth | Magical |
| 376 | Grand Red Zibul | 5 | Earth | Magical |
| 377 | Baby Orange Zibul | 3 | Earth | Magical |
| 378 | Orange Zibul | 4 | Earth | Magical |
| 379 | Grand Orange Zibul | 5 | Earth | Magical |
| 380 | Rosilda | 4 | Water | Mechanical, Ranged |
| 381 | Hydro Bat Rosilda | 5 | Water | Mechanical, Ranged |
| 382 | Shark Bat Rosilda | 6 | Water | Mechanical, Ranged |
| 383 | Sergeant Rane | 4 | Fire | Piercing, God Hunter, Ranged |
| 384 | Commando Rane | 5 | Fire | Piercing, God Hunter, Ranged |
| 385 | Supreme Rane | 6 | Fire | Piercing, God Hunter, Ranged |
| 386 | Mech Navi | 4 | Water | Mechanical, Melee, Raccoon |
| 387 | Mech God Navi | 5 | Water | Mechanical, Melee, Raccoon |
| 388 | Supreme Navi | 6 | Water | Mechanical, Melee, Raccoon |
| 389 | Swashbuckler Rekon | 4 | Dark | Magical, Undead, Melee |
| 390 | Ghost Pirate Rekon | 5 | Dark | Magical, Undead, Melee |
| 391 | Ghost Pirate Rekon | 6 | Dark | Magical, Undead, Melee |
| 392 | Oracle Jerez | 4 | Water | Magical, Spell Caster |
| 393 | Eldritch Oracle Jerez | 5 | Water | Magical, Spell Caster |
| 394 | Sovereign Oracle Jerez | 6 | Water | Divine, Magical, Spell Caster |
| 395 | Electric Näkki | 4 | Light | Magical, Spell Caster |
| 396 | Lightning Näkki | 5 | Light | Magical, Spell Caster |
| 397 | Mythic Thunder Näkki | 6 | Light | Magical, Spell Caster |
| 398 | Musashi | 4 | Light | Armoured, Mechanical, Melee |
| 399 | Cursed Musashi | 5 | Light | Armoured, Mechanical, Melee |
| 400 | Blessed Musashi | 6 | Light | Armoured, Divine, Mechanical, Melee |
| 401 | Titanglove Torsten | 6 | Light | Armoured, Mechanical, Melee |
| 402 | Supreme Nature Goddess Eir | 6 | Earth | Magical, Spell Caster, Healer |
| 403 | Mythic Forest God Tapio | 6 | Earth | Armoured, Divine, Ranged |
| 404 | Supreme Light Artus | 6 | Light | Divine, Spell Caster, Healer |
| 405 | Supreme Droid Asai | 6 | Dark | Mechanical, Undead, Melee |
| 406 | Seraph | 6 | Light | Divine, Flying, Spell Caster |
| 407 | Vasara | 4 | Fire | Divine, God Hunter, Melee |
| 408 | Striker Vasara | 5 | Fire | Divine, God Hunter, Melee |
| 409 | Thundergod Vasara | 6 | Fire | Divine, God Hunter, Melee |
| 410 | Muz | 4 | Earth | Magical, Spell Caster |
| 411 | Beast Muz | 5 | Earth | Magical, Spell Caster |
| 412 | Hrunn Shaman Muz | 6 | Earth | Magical, Spell Caster |
| 413 | Bellua | 4 | Fire | Piercing, Ranged |
| 414 | Firelance Bellua | 5 | Fire | Piercing, Ranged |
| 415 | Red | 4 | Fire | Melee |
| 416 | Big Red | 5 | Fire | Melee |
| 417 | Beastrider Bellua | 5 | Fire | Piercing, God Hunter, Melee, Ranged |
| 418 | Master Beastrider Bellua | 6 | Fire | Piercing, God Hunter, Melee, Ranged |
| 419 | Shambles | 4 | Earth | Spell Caster |
| 420 | Alchemist Shambles | 5 | Earth | Spell Caster |
| 421 | Moss | 4 | Earth | Armoured, Melee |
| 422 | Mighty Moss | 5 | Earth | Armoured, Melee |
| 423 | Beastrider Shambles | 5 | Earth | Spell Caster, God Hunter, Melee, Healer |
| 424 | Master Beastrider Shambles | 6 | Earth | Spell Caster, God Hunter, Melee, Healer |
| 425 | Highwayman Wilhelm | 4 | Dark | Piercing, Undead, Ranged |
| 426 | Wilhelm The Reaper | 5 | Dark | Piercing, Undead, Ranged |
| 427 | Doomhoof | 4 | Dark | Undead, Melee |
| 428 | Fierce Doomhoof | 5 | Dark | Undead, Melee |
| 429 | Equinox Rider Wilhelm | 5 | Dark | Piercing, Undead, God Hunter, Melee, Ranged |
| 430 | Equinox Knight Wilhelm | 6 | Dark | Piercing, Undead, God Hunter, Melee, Ranged |
| 431 | Thor | 4 | Light | God Hunter, Melee |
| 432 | Thunderstone Thor | 5 | Light | God Hunter, Melee |