- Tons of LEVEL UP materials!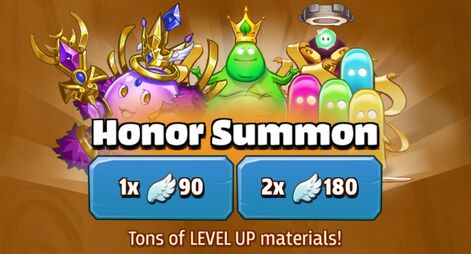 Honor Summon is a feature in Battlejack that lets you summon a Hero with either a Free Summons or with 90 honor points/wings. Up to 10 Honor Summons can be bought or opened with free Honor Summons at once.
Free Honor Summons are gained from chests, from prizes in events or through completing daily quests.
To gain honor points/wings you need to have friends, your Team Leader will appear in their ally list. When your friend uses your character in battle, 20 honor points will be sent to your chat.You can also gain honor points from completing daily quests.
The cards available through Honor Summons are mainly 1,2 and 3 star cards with very rarely 4 or 5 star ghost or spirit cards being presented. Mimics, as well as Rainbow Sprites can also be gained trough Honor Summons.
Known available heroes
Edit
This is a list of all heroes known to be summoned via Honor Summon. (incomplete)
| # | Name | Element | Star |
| --- | --- | --- | --- |
| 001 | Mage Henrich | Water | 2 |
| 002 | Water Mage Henrich | Water | 3 |
| 003 | Water Lord Henrich | Water | 4 |
| 004 | Water God Henrich | Water | 5 |
| 006 | Adela | Earth | 2 |
| 007 | Princess Adela | Earth | 3 |
| 008 | Earth Queen Adela | Earth | 4 |
| 009 | Goddess Adela | Earth | 5 |
| 011 | Mage Eldric | Fire | 2 |
| 016 | Water Blop | Water | 1 |
| 017 | King Water Blop | Water | 2 |
| 018 | Earth Blop | Earth | 1 |
| 019 | King Earth Blop | Earth | 2 |
| 020 | Fire Blop | Fire | 1 |
| 021 | King Fire Blop | Fire | 2 |
| 022 | Light Blop | Light | 1 |
| 023 | King Light Blop | Light | 2 |
| 024 | Dark Blop | Dark | 1 |
| 025 | King Dark Blop | Dark | 2 |
| 026 | Blue Goblin | Water | 1 |
| 030 | Green Goblin Leader | Earth | 2 |
| 035 | River Troll | Water | 1 |
| 038 | Stone Troll | Earth | 1 |
| 045 | High Healer Amelia | Water | 2 |
| 047 | Druid Myrna | Earth | 1 |
| 051 | Royal Archer Lisa | Fire | 2 |
| 053 | Skeleton | Dark | 1 |
| 057 | Magistra Elsa | Light | 2 |
| 059 | Mage Wilfred | Dark | 2 |
| 064 | Unicorn | Light | 1 |
| 067 | Fallen Unicorn | Dark | 1 |
| 070 | Griffin | Light | 1 |
| 071 | Alpha Griffin | Light | 2 |
| 073 | Mage Claara | Light | 2 |
| 074 | Holy Mage Claara | Light | 3 |
| 075 | Divine Magistra Claara | Light | 4 |
| 076 | Light God Claara | Light | 5 |
| 078 | Advocate Yin | Dark | 1 |
| 093 | Golem Tiny | Water | 2 |
| 244 | Water Ghost | Water | 3 |
| 245 | Water King | Water | 4 |
| 246 | Water God | Water | 5 |
| 247 | Earth Ghost | Earth | 3 |
| 248 | Earth King | Earth | 4 |
| 249 | Earth God | Earth | 5 |
| 250 | Fire Ghost | Fire | 3 |
| 251 | Fire King | Fire | 4 |
| 252 | Fire God | Fire | 5 |
| 253 | Light Ghost | Light | 3 |
| 254 | Light King | Light | 4 |
| 255 | Light God | Light | 5 |
| 256 | Dark Ghost | Dark | 3 |
| 257 | Dark King | Dark | 4 |
| 258 | Dark God | Dark | 5 |
| 259 | Golden Bug | Light | 2 |
| 260 | Diamond Frog | Light | 3 |
| 261 | Diamond Dragon | Light | 4 |
| 262 | Little Water Spirit | Water | 1 |
| 263 | Water Spirit | Water | 2 |
| 264 | Blue Bell Ringer | Water | 3 |
| 265 | Water Spirit King | Water | 4 |
| 266 | Water Sentinel | Water | 5 |
| 267 | Little Earth Spirit | Earth | 1 |
| 268 | Earth Spirit | Earth | 2 |
| 269 | Green Bell Ringer | Earth | 3 |
| 270 | Earth Spirit King | Earth | 4 |
| 271 | Earth | Earth | 5 |
| 272 | Little Fire Spirit | Fire | 1 |
| 273 | Fire Spirit | Fire | 2 |
| 274 | Red Bell Ringer | Fire | 3 |
| 275 | Fire Spirit King | Fire | 4 |
| 276 | Fire Sentinel | Fire | 5 |
| 277 | Little Light Spirit | Light | 1 |
| 278 | Light Spirit | Light | 2 |
| 279 | Light Bell Ringer | Light | 3 |
| 280 | Light Spirit King | Light | 4 |
| 281 | Light Sentinel | Light | 5 |
| 282 | Little Dark Spirit | Dark | 1 |
| 283 | Dark Spirit | Dark | 2 |
| 284 | Dark Bell Ringer | Dark | 3 |
| 285 | Dark Spirit King | Dark | 4 |
| 286 | Dark Sentinel | Dark | 5 |
| 287 | Mimic | Dark | 3 |
| 288 | Bat Mimic | Dark | 4 |
| 289 | Dragon Mimic | Dark | 5 |
| 329 | Rainbow sprite | Light | 2 |
| 330 | Rainbow sprite | Light | 3 |
| 331 | Rainbow sprite | Light | 4 |
| 332 | Rainbow sprite | Light | 5 |